The score on which the New Zealand team was dismissed has survived for 65 years. It has never happened that no team has even touched the figure of 30 in a Test match. Today is really going to be forgotten for the Kiwi team.
Bharat Malhotra | | Updated: 28 Mar 2020, 08:13:00 AM IST
new Delhi

This day in the history of cricket is one that has never happened before. A team was all out on a score that cannot be imagined. Can you imagine a team returning to the pavilion at a score of just 26? Yes, the entire team should settle on this score only. So, it will be interesting for you to know about this incident of cricket in today's history.

Auckland was a ground. The third day of the Test match started on 25 March 1955. This was the last Test match for England captain and veteran batsman Len Hutton. New Zealand scored 200 runs in their first innings. John Reid scored 73 and opener Bet Sutcliffe smashed 49 runs. Brian Statham took four wickets for England.
England scored 246 runs in their first innings. Captain Hatten batting brilliantly scored 53 runs off 143 balls. At the same time, Peter May scored 48 runs.
Now New Zealand's second innings. The same innings that became history. New Zealand's team was 46 runs behind England. And the team got its first setback as Gorden Logarte on a score of six. Fast bowler Frank Tyson got him caught at the hands of Hutton. After this, the process of falling wickets did not stop. New Zealand continued to lose wickets. Four of his batsmen could not open the account. And apart from opener Brett Sutcliffe, no one touched the double figures. Sutcliffe scored 11 runs. Overall the entire team managed to last only 27 overs.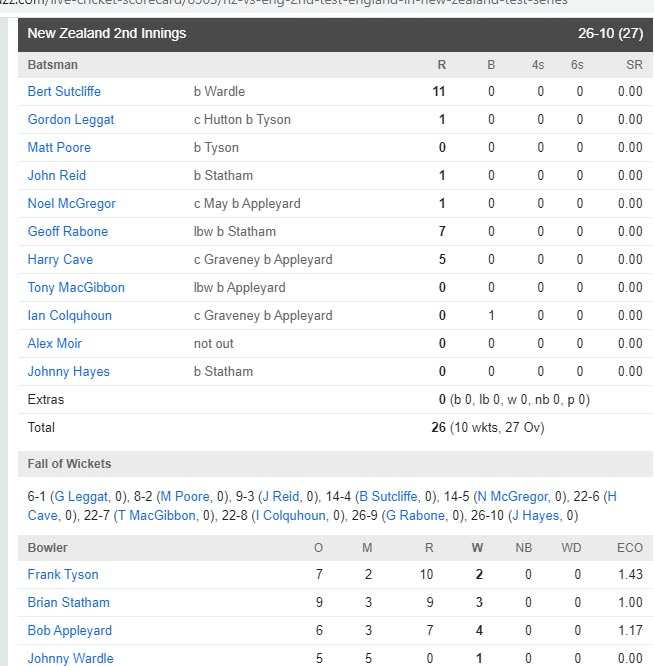 Scorecard – Cricbuzz
Right-arm fast bowler Bob Appleyard gave the four New Zealand batsmen the path of pavilion for seven runs in six overs. Statham, who took four wickets in the first innings, also took three wickets in the second innings. Tyson was accompanied by two and left-arm spinner Johnny Wardley took one wicket.
England won the match by an innings and 20 runs. And along with this, the two Test series also won 2–0.
| | | | | | |
| --- | --- | --- | --- | --- | --- |
| Team | Score | Shift | Vs | field | When |
| New Zealand | 26 | 3 | England | Auckland | March 25, 1955 |
| South Africa | 30 | 4 | England | Port elizabeth | February 13, 1896 |
| South Africa | 30 | 2 | England | Birmingham | 14 June 1924 |
| South Africa | 35 | 4 | England | Capetown | 1 April 1899 |
| South Africa | 36 | 1 | Australia | Melbourne | 12 April 1932 |
| Australia | 36 | 2 | England | Birmingham | May 29, 1902 |
| Ireland | 38 | 4 | England | Lords | July 24, 2019 |
Web title
this day in cricket history when england bowled out new zealand for just 26 runs at auckland
(News in Hindi from Navbharat Times , TIL Network)
Cricket news
Like NBT's Facebook page to get all the latest updates related to
. (tagsToTranslate) New Zealand score (t) New Zealand at 26 all out (t) Lowest score in Test match (t) England vs New Zealand (t) nz score (t) lowest test score (t) England vs New Zealand (t) ) eng score (t) News (t) News in Hindi (t) Latest News (t) Headlines (t) News
How to Buy Bitcoin, Dogecoin, Ethereum in India? CLICK HERE